Amazon is currently the world's largest e-commerce platform. Every day new sellers join this network, and the competition keeps rising. An Amazon consulting agency can help you sail through this massive wave of competition. Business online is not just about watching your sales and managing your seller account. Amazon offers multiple tools and features to boost your brand and its visibility amidst the myriad of thousands more. A novice seller may have to spend a lot of time and effort to understand the complex features of Amazon. This could prove to be an unnecessarily time-consuming process. With the help of an Amazon consulting agency, get a cost-effective and efficient service that utilizes Amazon tools to build the robustness of your brand.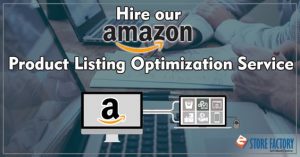 Without expert guidance, a seller may find it hard to navigate through the complexities of selling on Amazon. Here are some untoward consequences of not availing an Amazon consultant:
Improper or no content optimization may lead to low SERP rankings
Poor visibility leads to decreasing sales and eventually no profit
A seller might misjudge and invest money in ineffective campaigns or resources
Could lead to lesser conversions and ultimately no revenue
Your brand might not make a mark in the market despite the high quality
Without the expertise of an Amazon consulting agency, your business is like a ship without a sail. No sail, no direction, so the basic idea is that Amazon consulting gives you the right direction to move ahead. An expert Amazon consultant is proficient in streamlining your efforts, time, and money into tangibly high sales and amplify the brand image.
Get in-depth market research and data-driven marketing strategies to uplift your business
Optimized content with SEO tools and high volume keywords to reach the eyes of potential customers
Well –defined, attractive and informative storefronts
Increased brand velocity and boosted product visibility
With set KPIs, get regular account performance reports to modify strategies accordingly
Achieve better and convertible traffic with Amazon EBC and increase sales
With Sponsored Ads and PPC management, Amazon consultants create marketing campaigns to amplify your brand across the Amazon network
Get a magnified and reliable brand image, and achieve a loyal, ever-increasing customer base
eStore Factory is the Amazon consulting agency you are looking for!
We provide the best solutions and strategies to get your brand an upper hand in the market competition. Our expert Amazon consultants can holistically build your brand and amplify your brand story. Amazon consultants at eStore Factory are proficient in Amazon tools like Sponsored ads, PPC campaigns, and EBC. Our result-oriented approach focuses on increasing SERP rankings and curating high return market strategies. Avail of the consulting services at eStore Factory and enlarge your Amazon footprint.