Why is it always emphasized that Amazon Enhanced Brand Content is the best tool to soar high in online business? Many factors determine how well your business on Amazon runs. One of the most important factors is visibility. Visibility includes your SERP rankings, relevant page traffic, and brand recognition. Enhanced brand content helps you to improve upon all these factors and boost sales. It helps to optimize your product page and Amazon storefront to enhance your business online. With better online reach, you can garner more conversions and revenue.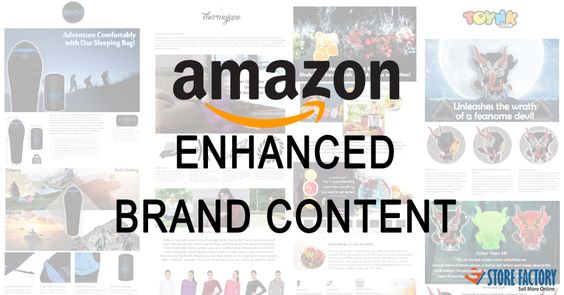 Amazon EBC is a handy tool for both new as well as already established businesses. It keeps businesses relevant and up to date according to the online market dynamics. With the help of an Amazon consultant, you can curate EBC strategies to efficiently maximize profits. While you may do it yourself, there are chances that the results will be inefficient. Plus, Amazon has strict guidelines for EBC content that only an expert Amazon consultant can help you with.
Amazon Guidelines for EBC
While Amazon does allow you the brilliant opportunity of enhancing your page content, you also need to get your content approved. The enhanced brand content approval depends on
the following criteria and guidelines by Amazon:
Do not refer to your company as a seller or distributor in the content
Always avoid using promotional adjectives like bestseller or cheapest, etc. in the content
Do not include details about shipping, cost, or delivery time
Avoid product details that refer only to a particular time like holidays
Do not use false claims, adjectives, or language persuading customers to make a purchase
Avoid using registered symbols or copyright in the content
Images that you add should be of high quality and without any watermarks. Use relevant and clear lifestyle images
Avoid spelling mistakes and unruly, blurry text content. Make your content with a professional approach
Amazon Consultants to the rescue!
The list of guidelines might probably intimidate you, but you can always hire an Amazon consultant to your aid. Leave it up to an expert Amazon consultant to create result-
oriented EBC strategies for your brand. From brand registry, content curation to content approval, your Amazon expert will do it all.
Get the best Amazon consultancy service at eStore Factory
With our team of dedicated Amazon consultants, refurbish your brand store to create infographic-rich and eye-catchy designs. Get informative and comprehensive brand content to boost conversions and sales. Leave your worries about getting the perfect content and approval up to us. Our EBC experts will execute and manage all aspects of the EBC submission and approval.