At present, when the virtual presence of any business or organization is predominant. Are you eager to start a new business? Then, instead of following the traditional ways, invest in developing an eCommerce business to receive fast results. Enjoy higher financial gains with increased sales on your eCommerce platform with time.
However, for having a successful eCommerce business, your responsibility doesn't end with only creating a website and adding some products to it! Connect with a reputed eCommerce agency that can help you earn more traffic. Without the inflow of regular traffic, achieving a higher sales figure is impossible. Whether you sell independently or on Amazon or Shopify, having a seller consultant by your side will be more profitable.
By following the footsteps of ace eCommerce businesses, teaming up with an eCommerce agency will lead your business to achieve success. Look forward to hire an experienced amazon consulting agency for their guidance to build you an online business.
It'll be smart for you to understand from the first place that building an eCommerce empire demands time. Delve into a long-time business relationship with the eCommerce ninjas, headstrong to guide you with the best suggestions and solutions to establish the strong ground of your eCommerce imprint. Therefore, teaming up with a reliable and highly-focused eCommerce agency will let you reach out to the bay of success faster than anyone!
You have to understand, no eCommerce business owner can give their 100% throughout the day for developing the business, while the agencies will be there to go even an extra mile by applying their expertise and analytical ability to understand the ups and downs of the markets. Hence, submitting your dependencies on a prolific eCommerce agency is the only way to build a successful virtual business amid the cut-throat competition of fierce online sellers, whether on Amazon or on independent virtual grounds.
When the key to an unbeaten online business is listing by listing, sponsored ads by sponsored ads, SEO by SEO, keyword by keyword, and customer by customer, finding the ideal eCommerce agency should be your priority to witness satisfactory outcomes from your eCommerce business from the weaning phase.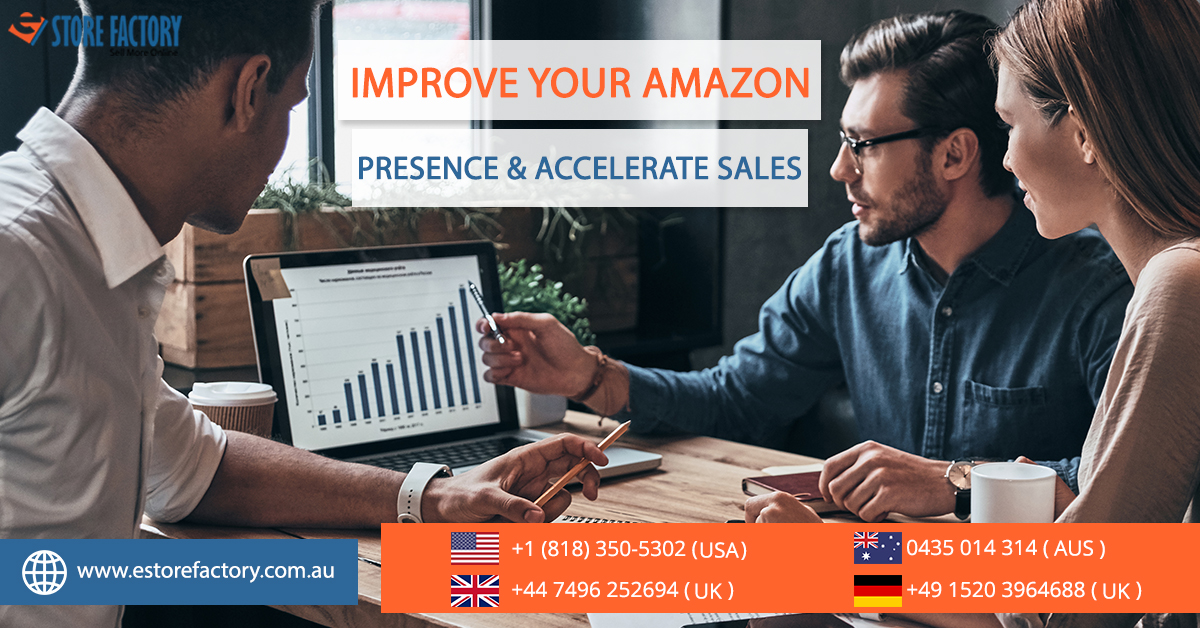 What can you expect from an eCommerce agency? How do they work?
A team of ace marketing specialists, diligently working externally to grow an eCommerce business from the grounds is what we know as eCommerce agencies. When you aim to establish a successful online business and grow it with time, without hiring a separate staff base on the company's payroll, collaborating with a renowned eCommerce agency to manage the Amazon account management, marketing, promotional activities, and stores is your best option.
With time, more businesses are outsourcing their marketing and online business development liabilities to these external commerce agencies. You can also do the same to stay on the edge when in the US alone, brands spend over billions for staying in the fierce market competition. A prediction is already in the air that by the end of 2022, the revenue of eCommerce agencies in the United States will rise by a whopping amount of $50 billion.
An eCommerce agency can support your online businesses with services like-
Expect both long-term and short-term goals depending on your choices.
Ace professionals at any eCommerce agency ensure effective website content development and strategy.
Receive highly strategic digital marketing and social media marketing initiatives.
Ecommerce agencies whether working for independent sellers, Amazon, or Shopify sellers focus on providing accurate SEO strategies starting from keyword mining to content production, promotions with link building followed by omnichannel marketing primarily on social media
Strategies for SEO-focused content
Copywriting for Sponsored ads such as PPC advertising, Amazon PPC Management, or social media advertising on Facebook, Twitter, Instagram, LinkedIn, etc.
100% focused on client-satisfaction.
Attuned to the constant changes in strategies in the highly volatile landscape of digital marketing fields.
Despite assuring you to manage the regular operations of your eCommerce business, top eCommerce agencies ensure cutting-edge performances with their use of the latest technologies. They know how to eliminate the pain points such as highly strategic inventory planning or PPC management, tracking the market ups and downs with technological intervention.
Why should you use Marketplace Selling?
The marketplace is the third-party seller model where sellers get the opportunity to add products to any centralized store. Take Walmart as the best instance of how from a brick-to-mortar business it successfully converted into the reputed walmart.com with global recognition by increasing its parameters by widening its distributions to communities via using the Marketplace.
Why should you Sell Online?
It's undeniable that the advent of eCommerce has made most people lethargic towards visiting a store to purchase anything from groceries to garments. Instead, they want to shop from the comfort of their home and get their shopping delivered to the doorstep. Be an online seller to take this advantage. To reach out to the targeted audiences with your products, take the help of an experienced eCommerce agency.
By adopting Marketplace, your online small business setup can get the advantage of adding more products and open up more sales channels along with other vendors and a higher sales opportunity.
How to find the ideal eCommerce agency for your business?
When you've decided to hire an eCommerce agency for boosting up your eCommerce business then some guidelines are here to find the perfect agency.
Hiring an eCommerce agency will be comparatively less expensive than maintaining a full-time team on the company's payroll. Therefore, be sure about the ROI considering the standard of their services.
Stick to the one with an excellent market reputation by helping several marketplace sellers or individual eCommerce sellers with high-end strategies to boost sales.
Their portfolio should impress you in the first place.
Their websites must showcase the types of services you desire to have.
Know the team working for the premium services like amazon ppc management, SEO, content marketing, or account management services.
The agency should offer eCommerce website design services.
Your investment in signing up with an eCommerce agency will bring more success to you as the experts will show their hard work and dedication to help you get more regular traffic that can transform into potential customers with time.